Adobe is Political

Adobe is destined to be politically questioned. Building codes are to be legally corrected throughout the Southwest of the US and beyond. Adobe construction obtains no bank loans. It should and it will.

Adobe will be increasingly more of a political issue: As building materials rise even higher in cost than in this first decade of the 21st century; as industrial materials' toxicity is perceived, as their cost of transportation increases with the price of fuels; as the climatic comfort and salubriousness of adobe walls are discovered, more budget-conscious dwellers will be drawn to the material.
To sleep, to move, to live in adobe walls is a cure from the expanding risks of electro-magnetic field emanations, or of out-gassing from toxic materials incorporated within paints, carpeting, and fiber board walls. Above all adobe is a pleasure to handle, and a huge financial saving over any other non-organic material.
Simone Swan, Adobe Alliance.
—–
Forgotten Adobe

With the advent of the industrial revolution, mud as building material was forgotten and vilified by the architectural profession. Only the penniless used it. Hassan Fathy is the first and foremost architect of the 20th century to look at adobe brick seriously and to refine its use in a contemporary bio-regional manner.

Simone Swan, Adobe Alliance.
—–
My Louisiana Catahoula Leopard Hound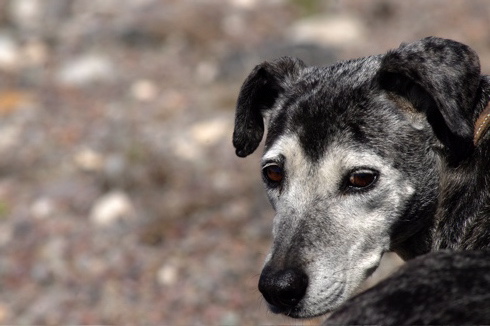 Hassan Fatima, in Memoriam 1993-2011, died at age 18. She was originally discovered at the dog pound in Marfa, Texas. She enriched our lives in Texas, New York, New Mexico.
She finishes all the bacon treats
innocent and willful to the last,
I waiting for the vet to appear
with Fatima's injection.

A sphinx on the floor,
too big for my lap, she's poised
paws forward, her dear black nose
on one front leg, huge eyes shut
while I expect them to open.
Her sudden peace, her serenity, dim
the memory of weeks of mournful gazes
of incontinence and quivering legs.
The vision of her great beauty,
as she rests splendidly
brings a flash of joy from times past.
I see her breathing
since for eighteen years
i've never not known
her ribs to rise and fall
as if to assert I'm all yours.
But her heart has stopped.
She folds her exotic being
like a night flower at dawn.
She remains a great beauty.

Simone Swan
—–
Dwelling Inside/Outside the Cultural Body
By Surpik Angelini

After nearly a century past, it is difficult to imagine the exhilaration avant-garde creators felt when technology altered their perception of space and time. More difficult yet, is to re-enact the synergy with which their body experienced speed and boundless space, as wheels and wings mechanically extended it. The Futurist's and Dadaist poetic tropes of the body seen as an erotic machine attest in some measure to deep transformations in the psyche. Nowadays, our awareness of such phenomena is blunted and consumed by the density of our massive media consumptions. We travel super speed highways, we fly vast distances, and we navigate the Internet while our daily rituals occur on a much slower pace, as if levitating on a lightweight surface of a parallel reality. We seem to be in trance as we perform quotidian tasks, immersed as we are in an artificially accelerated field. Few experiences pierce our clouded self-perception, allowing us to see how we see, feel how we feel, connecting our sensorial body to the outside world.

It was with these thoughts that I recently returned from a magical, yet dreaded journey to the Texas Border, dreaded because of the adventure involved in getting to a remote site in a desert beyond Presidio, out of cellular roaming ranges. Frankly I was experiencing Postmodern skepticism, very different to the romantic Futurist excitement I just invoked. After cruising 250 miles of freeways south of El Paso, negotiating bumper room with cargo trucks, we came across a veritable wasteland as we veered off a bumpy gravel road strewn with potholes, broken toilets, corroded car wreckage, fractured furniture, industrial ruins bearing witness to the devastation scene- the ripping of the social and political fabric of two cultures clashing at the Border. An act of faith on our part combined with a miraculous re-direction by a rare inhabitant in the area finally delivered the vision of Simone Swan's house at Casa Piedra, an adobe compound sited in the virtual center of a high plain spawning 360 degrees in the round, contained by the misty rim of the Big Bend Mountains. In the daylight, this apparition is the only distinct mark in an otherwise fossilized sea of mesquite shrubs and strangely colored Santa Rita nopal. At night, the pulsating lights of the city of Ojinaga on the Mexican border draw the only lively sight line. Some say it looks like a port, announcing itself in the distance. Some may ponder on the light and wisdom of the poor.

Simone Swan did not get to the Border by chance. Her work reflects years of cultural immersion in Central Africa, where she spent her youth, combined with a European and American education and a lifelong exploration of vernacular architecture. Of greater weight in her creative personality is her social activism, which unfolded during the 13 years that she worked and collaborated with the Menil Foundation. She helped imbue such projects as the Menil's Afro-American art collection, and the Rothko Chapel in Houston with a sense of transcultural ecumenism. Armed with a dose of ecological poiesis, in 1995 Swan moved to the Mexican-Texas Border to create an economical and thermally efficient prototype of mud-brick housing for local working families, drawing from her prior experience with Egyptian adobe architecture. A fine conduit for cultural synthesis, Swan's architecture is a rare distillation of her own kind of radical mysticism, embodying ancient and contemporary ecological knowledge and sophisticated architectural solutions open to the local master builder's culture and seasoned experience.

In aesthetic terms, the Swan house could be considered Minimalist because of its formal purity, though its humble palette of earthen materials evokes the aesthetics of Arte Povera. Poetically speaking, the house at Casa Piedra and other Swan inspired structures emerging in the area could be counted among other Land Art icons inscribing the desert by such artists as Robert Morris, Walter de Maria, Michael Heizer and James Turrell, all creators Swan has been familiar with since the seventies. More importantly, as cultural signs, these adobe structures function as signifiers denoting and connoting an otherwise unclaimed, empty cultural landscape spanning Texas and Mexico. As such, it remits to Winnicott's notion of a transactional object, mediating the Border's undefined Œpotential space‰ with a complex iconography attesting to a subtle integration of three distinct imaginaries: the Arab, the Hispanic and Anglo-Saxon, all of which evoke Swan's ongoing exchanges with Mexican master builders, her apprentices with restorers of the historic Fort Leaton and her lifelong commitment to Egyptian architect Hassan Fathy's profound lessons on adobe architecture.

In an international context, Swan's architecture belongs to a third generation of Fathy inspired projects -which took place mostly in Saudi Arabia and Egypt- advocating for their ecological relevance in today's world. Interestingly, the first versions expressed the sixty's anti-Modernist sentiment voiced by professionals who sought roots in vernacular culture, as a way to oppose industrial colonialism in third world countries. However, their overly serious, fundamentalist attitudes were mired with typical complexities and contradictions of developing countries, while in America, such architects as Robert Venturi turned to the vernacular with humour and positivism, as in Learning from Las Vegas (1966), prefiguring Postmodern permissiveness. In comparison, in third world countries, returning to roots, seeking fixed truths like THE vernacular was a poor approach to dynamic processes underlying post-colonial identity. Moreover, putting the thrust of sweat work on the poor was regarded as condescending and feudal compared to government prefab programs. Ironically, in hindsight, history shows us entire cities like Santa Fe in New Mexico capitalizing Disneyfied adobe architecture for the retiring gentry that populates it today, while the local Native Americans settle for motor homes in the city's outskirts.

Swan's contributions to the Southwestern tradition of flat roof adobe consists in adapting Fathy's millenary Nubian catenary vaults, domes and courtyards as a natural and efficient thermal solution for social housing in hot and arid climates. Though the Roman vault and dome were fairly common in Mexican colonial temples, they are virtually unknown in domestic uses. As Louis Khan would say the arch is the brick's response when asked what does it wants to be. Or as Daniel Camacho – one of the first Mexican homeowners and builders to apprentice with Swan- puts it; even wasps know how to build these structures, (no pun intended). Swan's building process not only embodies the principles underlying organic forms in nature, but it also incorporates her talented assistants' decorative details, local color on exterior walls and certain structural adaptations. Her collaborative process with Maria Jesus Jimenez and Daniel Camacho, reflect David Abrams' conviction that " art is really a co-operative endeavor, a work of co-creation in which the dynamism and power of earth-born materials is honored and respected. In return for this respect, these materials contribute their more-than-human resonance's to human culture.‰ Spell of the Sensuous (pp278, note22)

Its H shaped plan is defined by two main catenaries vaults and a flat cross bar, which encloses two courtyards: a paved one exposed to the east and a cultivated one, to the west. The extreme exposition to the sun causes temperature changes to activate air circulation through the house, even if the wind subsides. The immediate sensation one has as one enters the house is that of majestic proportions. Looking deceivingly small on paper, a mere 1700 square feet, and the space feels twice as big in reality. "Frozen music‰, would be Fathy's famous phrase to describe the vaults' wonderful proportions, disciplined by mud-brick units held together like notes in a chord. Light inhabits these structures, enticing views through thick walls, beyond small enclosures, above the vaulted ceilings, below the normal sightline. Windows and doors playfully frame sunsets, sunrises, nightscapes, and boundless space. In fact, the light spectacle never ceases: from the weavings of sunlight on the walls and floors, to the disappearing acts of the blue-violet solar power house against a momentary homogeneous color field in the sky. In fact, one is never quite sure of the shed's relative position in space, as its color dances in tandem with the dramatic changes of color of the sky around it. These experiences, and other daily rituals at the Swan house which include showering outdoors, perhaps under the stars, renders a sense of ritualized observation, which according to E.C. Krupp transforms a space into a temple, or in James Turrell's words: "as you plumb a space with vision, it is possible to see yourself seeing. This seeing, this plumbing imbues space with consciousness‰ and thus renews the body's awareness of its astral resonance.

Not surprisingly, the Swan house at Casa Piedra invites occasional pilgrimages in spite of its isolation. Some visits conclude with conversions to Simone Swan's vision and way of life. On the way to Lajitas, for example, we found a small tribute to her art, inspired by the domed structure she built in front of her house. Here, the squaring of the circle using squinched arches repeats itself, transmuting a totally different landscape. Its single beauty evokes the vi century martyria churches in Antioch or in the Armenian steppes. The couple that built it, meditate, play the guitar, and sing there. In the distance, at the foot of a canyon, another building site is prepared as thousands of mud bricks lay in rows to dry under the sun. Each structure seems to sing its own monochrome symphony: a solitary echo in a space that belongs to all.

I call to witness the Sun
And his early morning splendor
And the moon as she follows in his wake
The day when it reveals its radiance
The night when it covers him over
The heavens and its architecture
The earth and its spreading out
The soul and how it was integrated
And given the faculty of knowing

The Sun, The Qumran
Bibliographical sources (notes need to be completed)
Mapping Spaces- a topological survey of the work by James Turrell (NY.Peter Blum Ed., 1987.) Chap.
"Footprints to the Sky" by Dr. E.C. Krupp Aramco World, July-August, 1999. Article by Dick Doughty The Qumran
Architecture for the Poor. Hassan Fathy (Chicago. University of Chicago Press,1973)
The Sense of Unity: the Sufi tradition in Persian architecture. Nader
Ardalan and Laleh Bakhtiar. (Chicago. University of Chicago Press, 1975)
House, Form and Culture. Amos Rapoport. (N.J.: Prentice Hall, inc,1969.)
Earthworks and Beyond: contemporary art in the landscape. John Beardsley. (N.Y.: Abbeville Press, 1984) Spell of the Sensuous, David Abram
—–
Undermining (The New Press)
By Lucy R. Lippard
Attempts to restore respect for vernacular adobe, even in the Southwest, have not been hugely successful, thanks to pervasive short-term thinking. One of the more interesting attempts to repopularize affordable adobe is the non-profit Adobe Alliance, improbably founded by a cosmopolitan art world insider who once directed the Menil Foundation in Houston. Simone Swan (raised in the U.S., Belgium, and the Belgian Congo) apprenticed in the late 1970s in Egypt with Hassan Fathy, advocate of "barefoot architects" and author of Architecture for the Poor, who demonstrated that totally earthen homes with vaulted roofs and domes were cheap to build by hand without industrial material, cool in summer and easy to heat in winter. (Fathy was also the architect of the Dar al-Islam Mosque in Abiquiu, NM; the local story is that he sent his Nubian workers home when he discovered New Mexicans were so skilled in the adobe tradition.)
Swan returned to the U.S. and other pursuits, but on a visit to Big Bend National Park in 1991, she wandered into Fort Leaton, a nineteenth-century adobe trading post being restored by the Texas Parks and Wildlife Department. On impulse, she asked curator Gilberto Velasquez if she could work with him, and by the end of the year she was volunteering, molding adobes, and extolling the dome and vault construction she had learned from Fathy. With little or no lumber and extraneous metal, the price of housing decreased. Having persuaded local adoberos (adobe makers/builders) that it was feasible, she moved to the border town of Presidio, Texas, and began to work with Daniel Camacho in Ojinaga, on the Mexican side, where Swan hoped to introduce the Egyptian all-adobe domed roof as affordable housing in both Texas and Mexico. Camacho's house cost $9.04 per square foot (as opposed to some $250 for Santa Fe Style). Although Swan was convinced that she could cut even that cost and still meet federal regulations, the venture succumbed to lack of support and workable loans, so she built her own elegant "demonstration home" near Presidio. (I can testify firsthand to its beauty and energy efficiency.) Unfortunately, Swan is a visonary, not a businesswoman. When she moved to New Mexico, she found the building codes too restrictive, and traditional people unreceptive to adobe alernatives. While the Adobe Alliance never took off in the U.S., she continues, in her eighties, to lead workshops and lecture internationally, where her ideas are better received.
Downloads