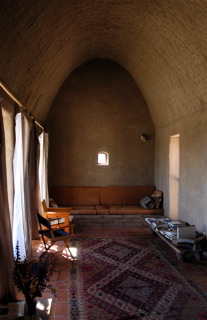 For workshop registration and inquiries please contact Simone Swan at simoneswan@gmail.com.
Mailing address:

Simone Swan
Adobe Alliance
604 Ave. Villahermosa, Unit 102
Santa Fe, NM 87596
Cell: 505 988 2828
Email: simoneswan@gmail.com
Member Sunrise Movement

Lodging & Directions
Lodgings:
In Presidio are two motels, Three Palms (#432-229 3211) and Riata Inn (#432-229-2528.) Rooms in the former tend to smell of chemicals and the latter is run by curmudgeons who do not give a discount.
Also right across the bridge in Ojinaga, Mexico, is a choice of clean, inexpensive motels, Cabañas El Camino (#011-52-626-453-4699,) Hotel Karike (#011-52-626-453-0368) and Hotel Valentino's (#011-52-626-453-2677.) Well-appointed apartments with 2-3 bedrooms can be rented very inexpensively, like for $140 a month.
At Swan House & Labs there is room for tents for a daily fee of $5 with use of outdoor shower. Note that water supply, pumped by solar electricity, is rationed. Please bring gallons of your drinking water, also for hand-washing.
Meals:
Breakfast, everyone on her/his own, coffee or tea may be brewed in Swan kitchen; lunch provided by the Alliance, dinners on your own but we often go out spontaneously in groups. Some buy their take-out dinner from the one grocery store.
Comforts:
Bring serious sun protection , work gloves, heavy shoes, a bucket, plus your own drinking water.
There is a great view from the privy down the bluff to the east (sorry! no flushing indoors lest we overburden and even drain the 12 batteries which provide electricity that pumps water via the 24-volt solar system.)
You may sleep on the deck on your mattress and in your bag, weather permitting
Feel free to bring your dog.
Required reading: Architecture For The Poor, Hassan Fathy, U. of Chicago Press, also sold in Mexico in Spanish, in Japan in Japanese and in Brasil in Portuguese. Staying Alive, Vananda Shiva, South End Press, New York, 2010, published in India in 1988.
Directions:
South from Marfa, Texas, on 67. Driving into Presidio you will cross a long bridge over shallow Cibolo creek, you turn left onto 170 east which meanders through Presidio, sometimes at unexpected absurd right angles. Stay on this paved road for 9 miles, then turn left onto Casa Piedra dirt road. 1.5 miles up the mesa is the swan house/ adobe lab for Adobe Alliance on the right. Welcome!
Presidio has a private airport. Also it is 3 hours by bus from Chihuahua airport, 6 hours by bus from Midland, Texas, airport and 4 hours by car from either Midland or El Paso airports.
Amtrak passenger train stops at Alpine, Texas, where you can be met.  Please consult their schedule.
We shall endeavor to coordinate travel plans of participants with maximum ride sharing or carpooling.
For more detailed directions please download this printable PDF.