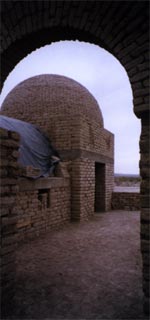 Our designs are based on our long intimacy with the material — earth, preferably local and free. Our most significant design features include adobe vaults and domes for inexpensive roofing, and courtyards that serve as air conditioners for maintaining thermal comfort throughout the year. House plans are based on rural adobe structures in most instances, but we welcome designing urban living spaces. When designing for individual clients we can be inspired by solutions found in other dry arid climates, as in China or West Africa. In particular, we have pinpointed the inestimable and renowned work of Egyptian Architect Hassan Fathy as fundamental guide for our designs in earth dwellings. Designs conceived or built since 1996 include very simple courtyard housing with woodless vaulted and domed roofs, retreat houses or casitas with exterior Dogon-inspired adobe stairs, houses 3,000 feet square, domed pavilions and adobe shelters with innovative high metal canopy covers.
MATERIAL
Adobe recycles itself and does not require any foreign materials. Swan's designs require no stabilizing materials such as asphalt or cement and exterior surfaces are plastered with earthen and other adhesive elements found in nature.
VAULTS AND DOMES

Our research and experience have long revealed that adobe roofs are the least expensive to build and the most comfortable thermally. Adobe vaults and domes do not require any industrial materials or the use of wood beams or forms. Construction is not complicated and does not require any special equipment. Adobe brick vaults and domes provide climate control and are less expensive than tin roofs. Since they do not require wood, we contribute to the preservation of forests.
INTERIOR DESIGN

Our interior walls are covered with a plaster of earth and water, expertly applied by Jesusita Jimenez and Efren Rodriguez. No protection is needed since the walls are interior, not open to the weather. The color of earth is soothing, but one can add plasters with pigments, mica or simple whitewash. From adobe architect John Barton of Santa Fe, New Mexico, we learned that walls are polished by rubbing them in a circular motion with lids of yogurt containers. No dust falls from the walls, a myth inexplicably perpetuated.
Our floors are also adobe mixed in varying proportions with linseed oil and turpentine spirits or citrus spirits. We use saltillo tile in bathrooms and kitchens only since it is exposed to splashing. Tile is hard and less comfortable than adobe.
Beds are built of adobe bricks mortared together and not plastered. Storage drawers can be placed under the beds, which are topped with a board on which lies a mattress of foam or magnets.
Kitchen cabinets can be bolted securely into the walls. Hanging art works requires hammering holes in the adobe wall. Holes can always be replastered, but we recommend placing a horizontal board under the plaster at bond beam level into which nails can be secured for hanging frames on piano wire.
Ceilings of small mud bricks create the magic of living, breathing, moving in a cocoon of earth. Interstices between each brick are filled with mortar, by hand, creating a finished pattern of "waves" of molded earth. Sleeping under the hemispherical ceiling of a dome is a beneficial, unconfining experience.
For desert climates we prefer metal French doors and windows, made to order locally. Wood needs constant protection from ultraviolet rays.
EXTERIOR DESIGN

Because of the harmonious curves afforded by vaults and domes, exterior design is kept simple and discreet. Proportions created by the height of the walls below the roofs play an important role not only esthetically but in providing shade where and when needed. Hence, our reliance on outdoor walled courtyards and loggias as roofless rooms to enhance comfort and enjoyment. Landscaping is kept indigenous.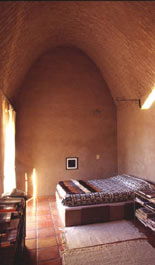 EARTHEN PLASTER
Adobe walls demand adobe plaster for maximum, long-lasting protection and breathability. The plaster we use is a composition of clay, sand, water, nopal (prickly pear cactus) juice, horse manure (we now suspect the manure attracts termites,) and finely chopped wheat straw. The straw provides structure and wicks away moisture. Nopal is highly glutinous and adhering, and small amounts of horse manure add malleability to the mix. The plaster creates a smooth coat but may be further finished with a lime wash or other non-chemical finish plaster. We have had success with lime and earth plaster.
ENERGY
Our designs are environmentally compatible. They are constructed solely of earthen materials and they incorporate off-the-grid sources of energy, using solar collection and windmills.